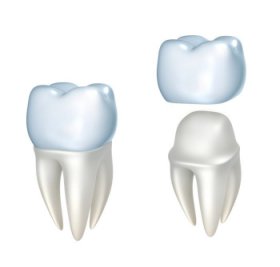 Ever thought of a permanent solution for your missing teeth? A crown and bridge is a permanent, non-removable replacement of a missing tooth/teeth. It is one of the most widely used treatments to restore a lost tooth successfully. With our eminent dental surgeons at Dental hub, we have been successfully delivering our patients with the best dental crowns and bridges in Jamshedpur.
Now, what is a dental crown and bridge?
A dental crown and bridge is similar to a bridge over a river. Like the river bridge fills in the distance between two ends of the river, in the same way a dental bridge fills in the gap between two existing teeth. Here teeth on both sides of the missing teeth area are taken as support and the missing teeth are replaced by artificial ones and are cemented onto the supporting teeth. The missing area of tooth that is replaced is known as the bridge whereas the cap placed over the existing tooth structure is known as the crown.
What is the procedure to get a dental crown and bridge done?
A dental crown and bridge need to be custom made for every patient to give it a perfect natural look. It requires 2 appointments to get a dental crown and bridge done. On the 1st appointment, we take the full mouth impression of the patient and sent to the lab. On the 2nd appointment, the prepared crown and bridge is delivered.
What are the materials used for a crown and bridge treatment?
The crown material varies from steel to porcelain to zirconium depending on the choice of the patient and case history of the patient. In general, we prefer to provide a porcelain crown or zirconia crown to our patients because it looks like a natural tooth.
How long does a dental crown and bridge last?
A dental crown and bridge is a permanent solution to your missing teeth and can last you a lifetime if you maintain it properly. You have to follow your dentist's instructions very carefully so that you can have a lifetime a happy smile.
A dental crown and bridge treatment works wonder when it comes to giving a natural look to your teeth. It is not as expensive as getting an implant done and thus is a highly loved procedure by the patients because it gives your teeth a natural look without any pain and complications of any kind.