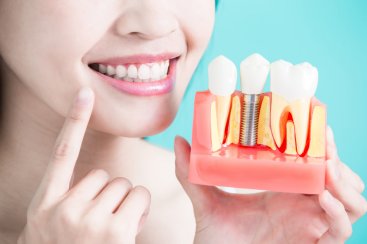 If you want a permanent replacement to your missing tooth/teeth, then dental implant is the treatment of choice for you. It is by far the only fixed permanent replacement to your missing teeth. We at Dental hub offer the best dental implant treatment in Jamshedpur at an affordable price with our highly skilled implantologists on board. Our surgeons specially trained in dental implants placements and have been successfully doing dental implants treatment for more that 10 years.
An implant plays the role of the tooth root on which an artificial tooth crown is attached. The implant is placed within the jaw bone where it gets integrated with the surrounding bone. This gives it the strength just like a natural tooth. Once it is fully fixed to the jaw, the crown is then placed over it. A dental implant looks like your natural teeth and functions the same. The cost of a dental implant varies from 20k to 50k. The material used for dental implants is titanium which is a very strong and biocompatible material, thus making it the best choice for implants
A dental implant placement requires 2 appointments. On the 1st day, the full mouth impression is taken and then the implant is placed in the bone. Once it is integrated to the jawbone, on the second appointment, the custom-made crown is fixed over it.
A dental implant is a perfect solution for any kind of tooth loss such as tooth loss due to trauma or decay. A missing tooth not just hampers our food habits, but also has a huge impact on the quality of life. We tend to smile less when we have a missing tooth and in turn that affects our personality and lowers our self-esteem.
So, what can be a better solution than a permanent replacement to your missing tooth?
The best part about a dental implant is that it does not require any special care like any other removable tooth prosthesis. It looks like and can be treated like a natural tooth. You can keep it clean just like your other teeth by brushing. These qualities of a dental implant have made it a far better alternative to other tooth replacement procedures.
Dental implants have gained popularity in the last few years because of its high success rate and the natural look. We, being one of the best dental clinics in Jamshedpur, always have maintained our treatment standards. So, if you want a permanent replacement to your missing teeth, book an appointment with us soon.