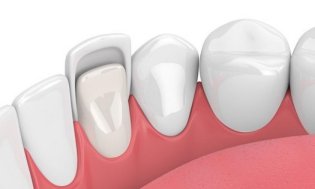 Have you seen people placing tiles to cover up any damaged wall? Veneers are used for the exact same purpose. Veneers are covering over a faulty tooth/teeth to hide any chips or cracks or any sort of irregularities that can interfere with its appearance. It is a cosmetic dental procedure done to hide any flaw of the tooth such as any crack, chips, malalignment or stain. Veneers are porcelain materials that has to be custom made in accordance to the teeth so that it fits perfectly and looks good. Dental hub is one of the best dental clinics in Jamshedpur for veneers treatment.
Veneer is a layer of material(porcelain) that is placed over the faulty teeth to cover up its flaws. The tooth looks perfect once covered by the veneer. It covers all the imperfections of the teeth. The best part about veneers is that it looks like natural teeth and is stain resistant.
To fabricate a veneer, a full mouth impression needs to be taken. A veneer is supposed to fit tightly over the tooth in order to give it a flawless look. Therefore, it has to be custom made for every patient. After taking the full mouth impression, it is sent to the lab to fabricate the veneer. On the 2nd appointment, the veneer is attached onto the tooth surface by means of a transparent dental cement and bonding agent.
Veneers have gained popularity in the last few years because of its high success rate and a flawless natural look. It is a painless procedure and is very convenient for the patient. So, if you are having any irregularities on the outer surface of your teeth and want to hide it, get yourself a veneer done from us. Book an appointment with us and give us the privilege to serve you.