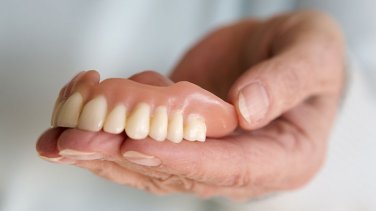 If someone says he/she has missing teeth, the immediate thought that comes to our mind is "get a denture done". Replacement for a missing tooth/teeth , and getting a denture done, goes hand in hand since ages. So, if you are looking for the best dentures treatment in Jamshedpur, Dental Hub is the place for you.
A denture is the most common and oldest way of replacement for missing teeth. There are two types of denture: complete denture and partial denture. Depending upon the case we decide whether our patient needs a complete denture (a complete set of teeth) or a partial denture(single tooth or a few teeth). A person who has a few missing teeth requires a partial denture whereas a person who has lost all his teeth requires a complete denture. Sometimes, the condition of the existing remaining teeth is so poor, the dentist decides to remove them all and place a complete denture. So, the choice of denture is case dependent.
A denture can be made of a variety of materials. It comes in different types like flexible and stiff. We provide whatever is suitable for each one of our patients.
What is the procedure to get a denture done?
For fabricating a denture, we need to take the full mouth impression of the patient first and then send it to the lab to make the denture of the desired material. A denture needs to be snugly fit on the gingiva to give it a natural appearance. For this purpose, a full mouth impression is necessary.On the 2nd appointment we deliver the denture to the patient. Then we explain how to use it and how to take care of it.
A denture, since it is removable, has to be taken care of separately. You have to remove it from your mouth every night before bed and clean it properly.
When a person loses his/her teeth, he/she is not able to eat or even speak properly. A denture can solve all these problems. It is a set of false teeth made of acrylic that is fit snugly onto the gums and functions as natural teeth.it is removable and can be easily taken out from the mouth and put back by the patient. It is one of the easiest and cheapest methods of replacement for natural teeth. So, if you want to get a denture done, visit us at Dental Hub. We will be very happy to help you.