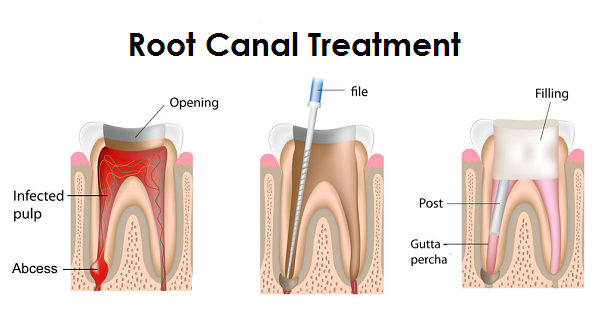 If you want to get one of the best root canal treatment in Jamshedpur, then without any second thought visit us at Dental Hub. Our dental surgeons are highly skilled and have been practicing root canal treatment successfully over years.
What is a Root Canal Treatment?
Root canal treatment is a highly sophisticated treatment in dentistry that relieves pain and can save a grossly decayed or infected tooth, which a few years back used to be considered for extraction.
What happens in a Root canal treatment?
As the words suggest, root canal treatment, it is a treatment of the tooth roots. A root canal is the natural cavity within the roots of the tooth. It consists of pulp (nerves of the tooth). When there is a tooth decay this pulp is infected and it causes pain. In root canal treatment this infected pulp is removed and the cavity is cleaned and sealed. This relieves the pain and restores the tooth. If not treated it may lead to further infections that might affect the adjacent teeth as well.
With the invention of Root Canal Treatment, the teeth that were previously extracted can now be saved. It is an alternative to extraction for many cases.
How long does it take to get a Root Canal Treatment done?
It requires a day to 3 days/appointments to complete a root canal treatment.
Is it a painful procedure?
No, it is not really a painful procedure. An infected tooth is painful. A root canal treatment will relieve you from that pain.
If you are advised to get a Root Canal Treatment done and you are avoiding the dentist since then, do not fear anymore. Visit us at Dental Hub in Jamshedpur to know more about the procedure and get a painless Root Canal Treatment done.