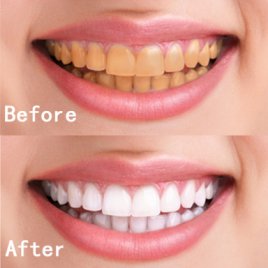 Tired of your yellowish teeth? Want a tooth whitening for yourself? We, at Dental hub, provide one of the best teeth whitening treatment in Jamshedpur. Our teeth naturally become yellow with age. Some of us have yellowish teeth from birth and some of us have it due to usage of tea, coffee and other eatables that may cause darkening of the tooth color. Whatever be the reason, a set of sparkling white teeth is now just a visit away.
Teeth whitening is a procedure by which teeth can be made white and shiny. It takes one or two appointments to get a full mouth tooth whitening done.
The process for getting a tooth whitening done is very simple. The whitening agent is applied onto the tooth surface and kept for some time. Then it is washed off leaving behind shiny white teeth.
Our teeth is a very important part of our face and is a marker of beauty. Yellow stained teeth don't look good and also interferes with our self -confidence when we speak to someone. So, it is necessary to have a set of white teeth.
Teeth whitening is an absolutely safe and successful procedure to restore a beautiful white and shiny set of teeth with no damage to the teeth.
Teeth whitening is a cosmetic dental procedure. As the cosmetics enhance our beauty, so does the cosmetic dental procedures. It hides all the flaws in your teeth and enhances your beauty by delivering a shiny white beautiful smile to you. Being a cosmetic dental procedure, it is a bit costly as compared to other regular dental procedures. But, at Dental hub we maintain an affordable price for all our treatments. So, keep aside all your worries and visit us at Dental hub and gift yourself a perfect set of sparkling white teeth.