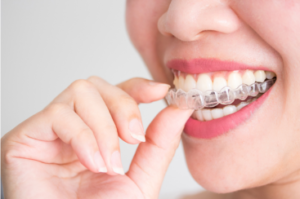 Are you looking for a discreet and effective solution to straighten your teeth? Dental Hub offers clear aligner treatment in Jamshedpur, a modern orthodontic option that can help correct your teeth and enhance your smile. With clear aligners, you can achieve the smile you've always desired without dealing with the metal wires of traditional braces. Experience the benefits of clear aligner treatment at Dental Hub and regain confidence.
Clear Aligner Treatment in Jamshedpur
Clear aligners are transparent, custom-made trays that gradually move your teeth into their desired positions. Since made with plastic, unlike traditional braces, clear aligners are virtually invisible, providing a discreet orthodontic option for adults and teenagers.
Crooked Tooth Treatment in Jamshedpur at Dental Hub
When you choose Dental Hub for clear aligner treatment, you can expect personalized orthodontic care from our experienced team of professionals. We understand that every patient's dental needs are different. During your initial consultation, our orthodontists will conduct a comprehensive examination, including digital scans and X-rays, to assess your dental condition and determine your best treatment plan.
Once your treatment plan is established, our orthodontists will scan your teeth to design a series of custom-made, clear aligners to fit your teeth. A new set of aligners is given to you every few weeks, each one gently shifting your teeth closer to their ideal alignment. Our orthodontists will monitor your progress throughout treatment, ensuring that your teeth move correctly and achieve the desired results.
Affordable Clear Aligner Treatment Cost in Jamshedpur
At Dental Hub, we believe a straight and confident smile should be accessible to all. We offer competitive clear aligner treatment costs in Jamshedpur, allowing you to achieve a beautiful smile without breaking the bank. The cost of clear aligner treatment may vary depending on factors such as your case's complexity and the treatment duration.
During your initial consultation, our orthodontists will provide a clear breakdown of the treatment plan, including transparent pricing for clear aligners. We strive to be transparent about the costs of your treatment plan, allowing you to make an informed decision. 
Transform Your Smile at Dental Hub
Dental Hub is your trusted destination if you're seeking a discreet and effective solution for crooked tooth treatment in Jamshedpur. Our experienced orthodontists are dedicated to helping you achieve a straight and confident smile through personalized orthodontic care and advanced clear aligner treatment. Book your appointment to consult our experts.