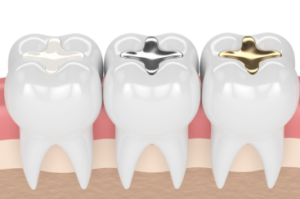 At Dental Hub, our dental specialist will do the quality filling and restoration. We specialize in long-lasting dental solutions regarding packing and restoration in Jamshedpur. You may need a simple filling or a complex restoration; we will meet your dental requirement. 
Procedure at Dental Hub, Jamshedpur
Diagnosis
We will examine your teeth at Dental Hub, Jamshedpur, and determine the extent of damage or decay. We will evaluate the adjacent and surrounding structures to conclude the most suitable treatment. 
Treatment plan
Based on the diagnosis, we will conclude with the final treatment plan. We will look into factors like the size and location of the damage or cavity. Other factors into consideration are your preferences and overall oral health. 
Local anesthesia
Before commencing the procedure, we will numb the area with local anesthesia. By doing this, you will have a painless experience during the process. 
Removing the decay
We will remove the decay with special instruments of dentistry. After that, we will do the filling. For restoration, we will address the broken or damaged parts of the tooth.
Preparation of the tooth
For filling and restoration in Jamshedpur, we will prepare the tooth by cleaning and disinfecting the damaged area or the cavity. For thorough cleaning, we will remove decay or debris. 
Filling/Restoration
Our dental specialist will select the most suitable substance for tooth filling and restoration. Available options with us are:
composite resin

porcelain 

amalgam
For filling and restoration in Jamshedpur at Dental Hub, we will apply and shape the material that matches the functionality and appearance of your tooth. 
Bite adjustment
Our oral specialist will check your bite for the proper alignment. Our dentist will make settings for optimal comfort. 
Significance of filling and restoration specialists at Dental Hub
Our dental specialists at Dental Hub, Jamshedpur, have in-depth knowledge and experience to preserve the natural structure and functionality of the teeth. 

accurate diagnosis for cavities and damaged teeth

They blend the restorations perfectly with natural teeth. 
Long term benefits
For filling and restoration in Jamshedpur, the long-term benefits are:
Preservation of your natural teeth

Prevention of further decay or damage

Enhanced oral health and hygiene

Improved functionality for chewing and speaking

Boosted confidence with a beautiful, healthy smile
Potential disadvantages of fillings
temporary sensitivity

allergic reaction to certain substances
Why Dental Hub for filling and restoration?
Expertise

: Our dentists are highly skilled and have extensive experience in filling and restoration procedures. They stay updated with the latest advancements in the field to deliver the best possible care.

State-of-the-Art Facilities

: Dental Hub has modern dental technology and tools, ensuring accurate diagnoses and precise treatments.

Personalized Approach

: We believe in providing individualized care to every patient. Our dentists take the time to understand your concerns and goals, creating a treatment plan that suits your unique needs.

Comfortable Environmen

t: We strive to create a relaxed and welcoming patient atmosphere. Our friendly staff will ensure that your visit to Dental Hub is pleasant.
Qualities of our best dentist
distinct clinical skills

continuing education and professional development