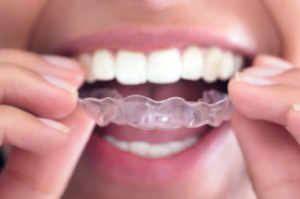 At Dental Hub, you will get comprehensive dental care for mouth guards in Jamshedpur. Mouth guards are an effective solution to save your teeth from potential damage. 
For mouthguards in Jamshedpur, our dental specialist will do the process step by step. 
Consultation
 The first step towards obtaining a mouthguard at Dental Hub is scheduling a consultation with one of our experienced dentists. Our dental professionals will carefully evaluate your oral health during this initial visit and discuss your needs and concerns. This assessment will help us determine the type of mouthguard most suitable for you.
Customized design for Mouth Guard
At Dental Hub, we believe in providing personalized solutions for our patients regarding mouthguards in Jamshedpur. Once we have assessed your oral health, we will design a customized mouth guard tailored to fit your mouth and teeth. Our skilled dental technicians will use state-of-the-art technology to create a mouthguard that offers optimal comfort and protection.
Impression and Mold Making
For the perfect fitting of the mouthguard, our dental specialist will take impressions and molds of your teeth. We will make a replica of your teeth with non-toxic material. We will craft your custom mouthguard based on the prints. 
Fabrication and Quality Assurance
Once we have obtained the necessary impressions, our dental laboratory technicians will fabricate your custom mouth guard. They will employ high-quality materials and meticulous craftsmanship to create a durable and reliable mouthguard that meets our stringent quality standards. Dental Hub for mouthguards in Jamshedpur prioritizes patient safety and satisfaction, so you can trust that your mouthguard will be of the highest quality.
Fitting and Adjustments
Once your custom mouth guard is ready, we will schedule a fitting appointment. Our dental professionals will ensure that your mouthguard fits snugly and comfortably during this visit. If any adjustments are necessary, we will make them to ensure a perfect fit that doesn't compromise your ability to speak or breathe properly.
Care instructions at Dental Hub, Jamshedpur
After fitting the mouth guard, our dental specialist will provide the care instructions in detail. You have to keep it clean and hygienic. 
Follow-up
We will encourage follow-up and visits regularly. 

To assess the condition of the mouthguard, you can make multiple visits. 

We will make the necessary adjustments. 
Why is Dental Hub an ideal choice?
At the Dental Hub, we provide you with patient-centric care. 

We make use of cutting-edge technology. We have a modern dental lab. 

We provide follow-up care and support for mouthguards in Jamshedpur at Dental Hub.