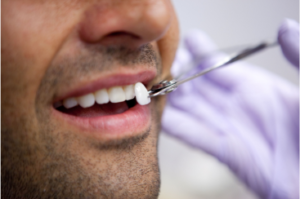 We will provide you with the best dental veneers in Jamshedpur. Welcome to Dental Hub dental veneers in Jamshedpur. If you want to enhance your smile and restore your confidence, our skilled dentists are here to provide exceptional veneer treatments.
 At Dental Hub, we understand the importance of a healthy and radiant smile. Dental veneers in Jamshedpur are a popular cosmetic dental treatment that can transform teeth, correcting imperfections and giving you the smile you've always dreamed of.
What are Dental Veneers?
Dental veneers are thin, custom-made shells attached to the front surface of the teeth. We design to improve the appearance of teeth that are discolored, chipped, misaligned, or have gaps. Veneers are made from high-quality, durable materials that mimic the natural look of teeth, providing a seamless and natural-looking smile.
The Veneer Procedure:
Getting dental veneers at Dental Hub is straightforward and hassle-free.
Consultation: Schedule an appointment with our experienced dentist for a thorough examination and consultation. We will discuss your goals and determine if veneers are the right solution for you. 
Treatment Plan: Once veneers are deemed suitable, our dentist will create a customized treatment plan tailored to your needs. 
Preparation: To ensure a proper fit, we will remove a small amount of enamel gently from the front surface of your teeth. We will take the impressions to create your veneers.
Temporary Veneers: While fabricating your permanent veneers, we place temporary veneers to protect your teeth and maintain aesthetics.
Bonding: Once your veneers are ready, our dentist will carefully bond them to your teeth using dental adhesive. 
Follow-Up: We will schedule a follow-up appointment for dental veneers in Jamshedpur to ensure your veneers function correctly and address any questions or concerns you may have.
Contact Us and Appointment: To book an appointment for dental veneers at Dental Hub, visit our website or call us.
Significance of Dentists for Veneers: The expertise and skill of a qualified dentist are crucial for successful veneer treatment. Our dentists at Dental Hub have extensive experience in cosmetic dentistry, ensuring we place the veneers with precision and artistry. We prioritize your oral health and work closely with you to achieve the smile you desire.
Long-Term Benefits of Veneers:
Dental veneers offer numerous long-term benefits, including:
Enhanced Smile

: Veneers can dramatically improve the appearance of your teeth, giving you a brighter, more attractive smile.

Natural Look:

The materials used in veneers closely resemble the appearance of natural teeth, ensuring a seamless blend.

Durability

: Veneers are highly durable and resistant to stains, allowing you to enjoy your beautiful smile for years.

Minimally Invasive

: Getting veneers involves minimal discomfort and preserves most of your natural tooth structure.
Why Dental Hub for Veneers?
At Dental Hub, we are committed to providing exceptional dental care and ensuring our patients' satisfaction. Our dentists have skills in cosmetic dentistry.