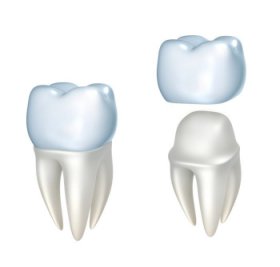 Want to restore the functionality and beauty of your damaged or missing teeth? Dental Hub offers high-quality dental crown and bridge treatment in Jamshedpur. Our dentists use the latest techniques and technology to give you durable and natural-looking dental restorations that can transform your smile. Regain your confidence and oral health with a dental crown and bridge treatment at Dental Hub.
Dental Crown and Bridges Treatment in Jamshedpur: Enhance Your Smile
Dental crowns and bridges are versatile restorative dental treatments that address various dental issues. A dental crown is a tooth-shaped cap that is placed over a damaged tooth to restore its strength, shape, and appearance. It is an ideal solution for teeth that are severely decayed, cracked or weakened.
A dental bridge, on the other hand, is used to replace one or more missing teeth. It consists of an artificial tooth (pontic) that is anchored by dental crowns on the adjacent healthy teeth. Dental bridges fill the gaps in your smile and help maintain proper dental alignment and bite functionality.
Dental Crown Cost in Jamshedpur: Affordable Restorations for Your Smile
At Dental Hub, we understand that cost can be an important factor when it comes to making a decision about dental treatments. We offer competitive dental crown cost in Jamshedpur without compromising the quality of care. The cost of dental crowns may vary depending on multiple factors, such as the complexity of the case, the type of material used, and any additional procedures required.
During your consultation, our experienced dentists will evaluate your dental needs, discuss the treatment options, and provide a transparent breakdown of the dental crown cost. We believe in open communication and ensuring you are well aware of the necessary information to make informed decisions about your oral health.
Comprehensive Dental Crown and Bridges Treatment at Dental Hub
At Dental Hub, we are committed to providing comprehensive dental crown and bridge treatment tailored to your unique needs. Our skilled dentists will assess your dental condition and suggest a customized treatment plan that suits your needs.
Using state-of-the-art technology and high-quality materials, our dental professionals will create custom-designed dental crowns and bridges that blend seamlessly with your natural teeth. We strive to ensure a comfortable and efficient treatment process, delivering durable and aesthetically pleasing results.
Restore Your Smile at Dental Hub
If you're seeking dental crown and bridges treatment in Jamshedpur, Dental Hub is your trusted dental clinic. Our experienced dentists are dedicated to providing exceptional care and helping you achieve a healthy and beautiful smile. Regain the functionality and confidence you deserve – schedule your appointment today.