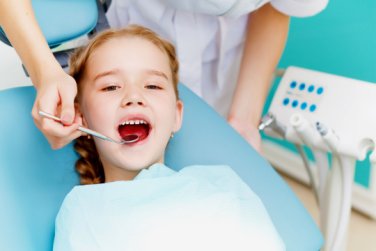 Expert Kid's Dental Care in Jamshedpur at Dental Hub.
Looking for specialized dental care for your child in Jamshedpur? Look no further than Dental Hub. When it comes to dental care for kid's, we understand the kind of care and attention required. Our experienced dentists are dedicated to providing gentle and comprehensive kid's dental treatment to ensure optimal oral health for your little ones. Trust Dental Hub for expert kid's dental care in Jamshedpur.
Why Choose Kid's Dental Care at Dental Hub?
At Dental Hub, we prioritize your child's comfort and well-being. Our kid-friendly dental clinic creates a warm and welcoming environment, helping children feel at ease during their dental visits. Dental appointments can be intimidating for kids, so we make sure to build trust and establish a positive rapport with each child, ensuring a positive dental experience.
Comprehensive Kid's Dental Treatment
At Dental Hub, we emphasize the importance of maintaining good oral hygiene habits from an early age. We offer a wide range of kid's dental treatments to cater to the needs of children, from routine dental check-ups and cleanings to preventive treatments like dental sealants and fluoride applications, . We also provide restorative treatments, such as dental fillings and crowns, to address any dental issues your child may encounter.
Educating Children for Lifelong Oral Health
At Dental Hub, we believe that educating kids about oral health is key to the prevention on any oral problem and maintaining good oral health. We take the time to educate children and their parents about proper oral hygiene practices, including brushing, flossing, and healthy eating habits. By instilling good habits and emphasizing the importance of oral health, we aim to empower children to take control of their dental well-being and establish a foundation for a lifetime of healthy smiles.
Schedule Your Child's Dental Appointment Today
If you're seeking expert kid's dental care in Jamshedpur, Dental Hub is your trusted dental clinic. Our experienced pediatric dentists are committed to providing exceptional care tailored to your child's needs in a comfortable and friendly environment. Help your child achieve a lifetime of healthy smiles by scheduling their dental appointment at Dental Hub today.