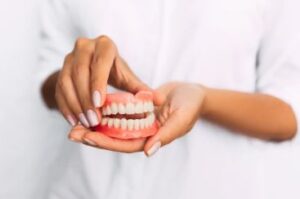 At Dental Hub, you will have a reliable solution for removable dentures in Jamshedpur. We have experienced dental professionals and the state of the art facilities. With effective removable dentures, we will restore smiles and improve your oral health. 
Consultation
At Dental Hub, we will diagnose your oral condition for dentures. Our dental specialist will discuss your needs, and we will create a personal treatment plan. The plan will fit the unique dental situation associated with you. 
Impressions and Measurements
Next, we will take precise impressions of your mouth to ensure a perfect fit for your removable dentures. Our advanced technology enables us to capture accurate measurements and craft comfortable, functional, and aesthetically pleasing removable dentures in Jamshedpur. 
Customization and Fabrication
With the help of impressions and measurements, we will create custom dentures. With attention to detail, we will craft the dentures to match the natural contours of teeth and gums. 
Fitting and Adjustments at Dental Hub
Once your dentures are ready, we will schedule a fitting appointment for removable dentures in Jamshedpur. During this visit, our dentists will assess the fit, make any necessary adjustments, and ensure optimal comfort and functionality. We understand that every individual's oral anatomy is unique, so we take the time to ensure your dentures are adjusted to suit your specific needs.
Why Dental Hub for removable dentures?
Expertise and experience
At Dental Hub, we have skilled and experienced dentists. We have the latest advancements in the field of dentistry:
Modern facilities, we make use of advanced dental technology. With modern equipment, we make the correct diagnosis. 
Personalized care
We have a patient-centric approach and tailor treatments per the requirements. We will provide you with the comprehensive information. 
Advantages of Removable Dentures:
Restored Smile and Confidence

: Removable dentures in Jamshedpur are an excellent solution for replacing missing teeth, allowing you to regain your smile and self-assurance.

Improved Chewing and Speaking Abilitie

s: Dentures enhance your ability to chew and speak properly, restoring natural oral functionality.

Affordable Option

: Removable dentures are a cost-effective option for tooth replacement, making them accessible to many individuals.
Disadvantages of removable dentures
Initial adjustment 
Dentures will take time to adjust. But with time, you will adapt comfortably. 
Maintenance and care
For the removable dentures, you need regular cleaning and maintenance. It is to ensure longevity and oral hygiene. You must abide by the instructions of our dental specialists associated with the dental hub. 
Bone resorption
With time, the jaw bone may be subject to resorption. Because of this, there will be changes as far as denture fitting is concerned. 
Why Dental Hub for Dentures?
Expertise

In advanced technology

And patient-centric approach