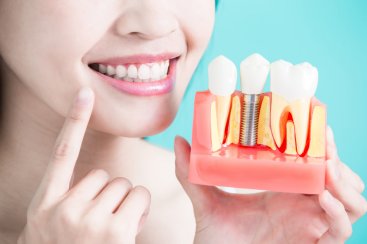 Are you missing a tooth or struggling with loose dentures? Dental Hub is your trusted destination for dental implants in Jamshedpur. Experience the benefits of permanent tooth replacement and regain your confidence with our exceptional dental implant services.
What are Dental Implants?
Dental implants are a great option for replacing lost or missing teeth. These implants provide a strong foundation for custom-made dental crowns, bridges, or dentures. Small titanium posts are surgically placed into the jawbone to serve as artificial tooth roots. Dental implants offer a natural look and feel and provide excellent stability and functionality, allowing you to eat, speak, and smile with ease.
High-Quality Dental Implants in Jamshedpur
At Dental Hub, we understand the impact of missing teeth on your daily life and self-esteem. Our experienced dental implant specialists utilize advanced techniques and technology to ensure precise implant placement and optimal outcomes. Our dentist will assess your needs and create a personalized treatment plan tailored to restore your smile to its former glory.
During your dental implant procedure, our expert team will perform a comprehensive examination and take 3D digital scans to assess your jawbone density and identify the ideal placement for your implants. Our priority is your comfort and satisfaction, and we utilize local anesthesia and sedation options to ensure a pain-free and anxiety-free experience.
Affordable Dental Implant Cost in Jamshedpur
At Dental Hub, we believe that everyone deserves a beautiful and functional smile. We offer competitive dental implant costs in Jamshedpur, making this transformative treatment accessible to more patients. The cost of dental implants may vary depending on factors such as the number of implants required, the need for additional procedures like bone grafting, and the type of restoration used.
For those looking for single-tooth implants in Jamshedpur, Dental Hub offers affordable options tailored to your specific needs. Our experienced dentists will provide a thorough evaluation and present you with a detailed treatment plan, including the single-tooth implant cost in Jamshedpur. We believe in transparent pricing, ensuring that you have a clear understanding of the expenses involved.
Restore Your Smile at Dental Hub
Don't let missing teeth hinder your quality of life any longer. Our compassionate team is dedicated to delivering exceptional care, using the latest techniques to achieve outstanding results. Choose Dental Hub for dental implants in Jamshedpur, and experience the life-changing benefits of this advanced tooth replacement solution.