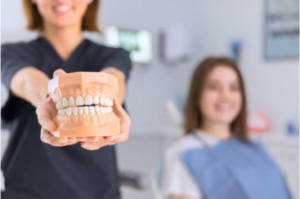 Are you looking for solutions to restore your missing teeth? Dental Hub brings you the option to get fixed teeth in a day in Jamshedpur. With our advanced dental implant treatment, you can achieve a brand-new smile and regain your confidence—all in just one day. Experience the convenience and life-changing results of same-day dental implants at Dental Hub.
What are Fixed Teeth in a Day?
Fixed teeth in a day, also known as immediate load dental implants or same-day dental implants, offer a streamlined and efficient approach to tooth replacement. Traditionally, dental implant treatment required multiple visits over an extended period. However, with fixed teeth in a day, our skilled dental professionals can provide fully functional teeth on the same day as your implant placement procedure.
Advanced Dental Implant Treatment in One Day In Jamshedpur
At Dental Hub, we understand the importance of your time and the desire for immediate results. Our expert team of implant specialists is well-versed in the latest techniques and technologies to ensure the success and efficiency of your dental implant treatment in one day.
During your initial consultation, our dental implant experts will conduct a comprehensive examination and take digital scans of your mouth. This allows us to plan the placement of your dental implants precisely. On the day of your procedure, our implant specialist will strategically place the implants in your jawbone, followed by the attachment of customized prosthetic teeth. 
Fix Teeth in a Day in Jamshedpur: Quick and Convenient
Dental Hub is proud to offer fixed teeth in a day in Jamshedpur, providing our patients with an efficient and convenient solution to tooth loss. Whether you have a single missing tooth or require a full arch restoration, our same-day dental implant treatment can transform your smile in just one visit.
By opting for fixed teeth in a day at Dental Hub, you can experience immediate benefits, including restored oral function, improved aesthetics, and enhanced self-confidence. 
Regain Your Smile at Dental Hub
Don't let missing teeth hold back your smile. Choose Dental Hub for fixed teeth in a day in Jamshedpur and enjoy the convenience and transformative results of same-day dental implants. Schedule your appointment today.