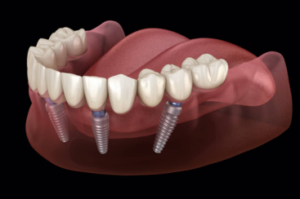 Transform Your Smile with Full Mouth Implants in Jamshedpur at Dental Hub
Experience the life-changing benefits of full mouth implants at Dental Hub in Jamshedpur. If you're dealing with extensive tooth loss or have multiple dental issues affecting your oral health and appearance, full mouth implants can provide a permanent solution. Our dentist specializes in full mouth implant treatments, utilizing advanced techniques and state-of-the-art technology to help you regain a complete, functional, and beautiful smile. Trust Dental Hub for exceptional full mouth implants in Jamshedpur.
Understanding Full Mouth Implants
Full mouth implants, also known as full arch implants or implant-supported dentures, are an innovative dental solution for patients with significant tooth loss or severe dental problems. This comprehensive treatment involves the strategic placement of dental implants throughout the entire arch, providing a strong foundation for a fixed set of replacement teeth.
Benefits of Full Mouth Implants
Full mouth implants offer numerous advantages over traditional dentures or removable dental prosthetics. They provide exceptional stability, functionality, and aesthetics, allowing you to chew, speak, and smile with comfort. Some of the key benefits of full mouth implants include:
Enhanced Bite Function: Full mouth implants restore your ability to bite and chew properly, improving your digestion and overall oral health.

Natural-Looking Results: The replacement teeth attached to the implants are custom-designed to match your natural teeth, providing a seamless and attractive smile.

Improved Speech: Unlike traditional dentures, full mouth implants eliminate the risk of slippage, allowing you to speak clearly without any concerns.

Long-Lasting Solution: With proper care and maintenance, full mouth implants can last for many years, providing a durable and reliable dental restoration.

Preserved Facial Structure: Implants stimulate the underlying jawbone,  preserving your facial structure by helping to prevent bone loss.
Get Your Full Mouth Implants at Dental Hub
At Dental Hub, we have a team of experienced implantologists who specialize in full mouth implants. We begin the treatment process with a comprehensive evaluation, including digital imaging and diagnostics, to assess your oral health and come up with the best treatment plan for your unique needs.
Our skilled dental professionals utilize advanced implant placement techniques and cutting-edge technology to ensure precise and successful implant integration. We prioritize your comfort throughout the treatment and guide you through each step of the process, from implant placement to the final restoration.
Regain Your Smile and Confidence Today
If you're considering full mouth implants in Jamshedpur, Dental Hub is here to help. Take the first step towards comfortable teeth and a beautiful smile by scheduling a consultation at Dental Hub today.